MY PERSONAL RACE RESULTS.

TRAVELLERS REST HOMING SOCIETY

MEMBERS & RACING IN 1999 & 2000 PHOTO ALBUM

THE DERBYSHIRE FEDERATION

THE RACING PIGEON WEB RING
CLOWNE CROSS H. S.
After helping my wife's Grandfather look after his birds when he was
recovering from a stroke I joined Clowne Cross Homing Society as Thompson
& Garrity. More to help Ralph (Mr. Thompson) speed up his own recovery and
To maintain my frequent visits to the local pub with him, unfortunately
Ralph never fully recovered and passed over to that great pigeon loft in
The sky.
Which left yours truly with a small problem. A loft full of pigeons I
knew nothing about.
I decided to get rid of a few birds, I had a sale, to my horror I was
later to discover I had gotten rid of some of Ralph's best.
In my first season I won One prize, First club Portsmouth, old birds, 172
Miles.
My second season was a disaster; I made the mistake of trusting someone to
Look after the birds while I took the family on a much-needed holiday. A
Cat got in frightened the life out of the birds, plus I got pneumonia,
Nothing to do with pigeon keeping, which finished my season off without a
Prize of any kind.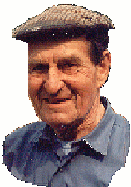 Left is a picture of my mentor Ralph Thompson,
sadly Ralph never lived to see our partnership
come to fruition, he is sadly missed by family
And friend alike, a true gentleman.

My third year, my best yet.
Old birds
2nd club Travellers Rest Fourgeres 341 miles
2nd club Travellers Rest Nantes 417 miles
1st club Travellers Rest Saintes 521 miles
THE ABOVE PRIZES WERE WON BY THE SAME PIGEON A TWO YEAR OLD MEALY COCK FLYING NATURAL
THE WIFE NICKNAMED HIM BOOMERANG AS IT WAS THE ONLY PIGEON I SENT TO FRANCE THAT KEPT
COMING BACK,
Young birds
5th club Warwick Clowne Cross 70 miles
3rd club Marlborough Travelers Rest 120 miles
5th club Clowne Cross Marlborough 120 miles
2nd club Travellers Rest East Prawle 236 miles
3rd club Travellers Rest East Prawle 236 miles
4th club Travellers Rest East Prawle 236 miles
Not bad eh! Hope for a bigger improvement next year,

2000 RESULTS
Not as good as I expected, no one to blame but myself, tried to
do it without really making the effort.
The pluses are that a nest pair I bred won 5 prizes between them for
two different fanciers. One bird winning over £ 120 of which I recived
£ 50 of the winnings in our annual breeder buyer race ,the same bird also
took second prize in the Pleasly show for my old pal Tony Medows ( Top of
the tree Tony is when getting the best out of a pigeon ).
I managed three prize cards this year two with the Nott's & Derby Border
Fed a third and a sixth with two yearlings which also won cards as Y.B.'s
The third prize card being my old favorite Boomerang who took fourth club
Nantes 417 miles against some very stiff opposition , namely Mr Geoff
Chapman & Mr Harrold Short who not only took first prize but also topped
the mighty Derbyshire Fed .

Back to top
TRAVELLERS REST CLOSES AFTER 70 YEARS
It is with great sadness to have to report the decline of another flying club. The Travellers Rest Homing Society. After seventy years the remaining members were forced into voting for its closure, mainly due to falling membership.
I am sure all the people involved with the club would like to extend their thanks to Mick Slater the former secretary for his magnificent efforts in recent years in keeping the club afloat. All the best for the future Mick.
On a brighter note the majority of the remaining members have applied to join their nearest neighbour Clowne Cross Homing Society.




Back to top





Back to top
This year is the Centenary year off the forming of the Derbyshire Federation below is our transporter which carries upward of 5000 birds when racing inland up to the English Channel.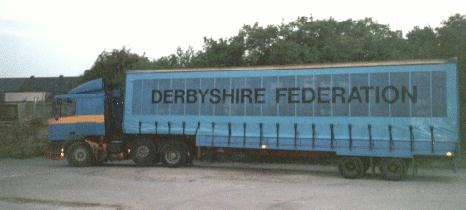 Back to top
BELOW IS THE SITE OF THE RACING PIGEON WEB RING A LINK TO PIGEON SITES WORLD WIDE I THINK YOU WILL FIND IT INTERESTING.

Last Revised: 05.03.2000.